for more recent individual stories, read from our Prayer Request page.
Click HERE to read more...
"Joyce" 8 y.o.
received a backpack with new clothing, coloring books & markers, a journal and a stuffed animal when she was suddenly thrust into a foster home. 
Learning the System Youth Summit
was the brainchild of a Ben Franklin senior.  LTK was honored to partner with her for the July 2021 event which took place in the Orleans Criminal Courthouse.  Professionals from NOPD, the Orleans District Attorney's Office, New Orleans Child Advocacy Center, and those working in Human Trafficking addressed about 50 teenagers about preventing and dealing with abuse and sexual assault.  
LTK gave away logo baseball caps, presented about youth mental health, and provided lunch for all participants.  
The "Doe" family (4 kids)
lost everything in Hurricane Ida.  LTK provided them with new clothing for all 4 kids, Christmas gifts, and hygiene items.  
Tyrone 16 y.o.
was kicked out of his aunt's house after he made a bad decision.  He was referred to us by Juvenile Court.  Facing the loss of all of his things and the move to a new foster family, he was heartbroken.  Through his social worker, LTK gave Tyrone notes of encouragement, new clothes, new sneakers, books on devotion & meditation, and even several Christmas presents, including a new laptop.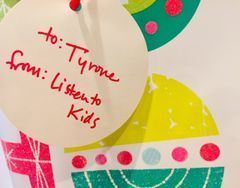 Covenant House NOLA
shelters about 200 teens and young adults on any given night.  After Hurricane Ida, their population jumped & their resources were strained.  LTK was able to provide 25 sets of new bedding for Covenant House NOLA in September of 2021.
Ms. Shirley's family (5 kids)
Ms Shirley's daughter was killed suddenly, leaving her 4 little girls parentless and dealing with the PTSD of their mother's violent death.  Ms. Shirley, a survivor of child abuse herself, took in her young granddaughters.  LTK brought the family new clothes, journals, and Christmas presents for each of the girls. 
The "Reyes" family (3 kids)
found themselves in a situation with no food & no food stamps available.  LTK sent several hundreds of dollars worth of fresh groceries and cleaning supplies. 
"Ebony" 15 y.o.
Struggling with not having her needs met at home and feeling un-noticed, Ebony made some bad decisions which led her to Juvenile Court.  Her social worker said that Ebony felt like she had a voice when she was able to do art, but her parents couldn't get her art supplies.   Through her social worker, LTK sent a note of encouragement and adult coloring books, gel pens and markers, and a journal.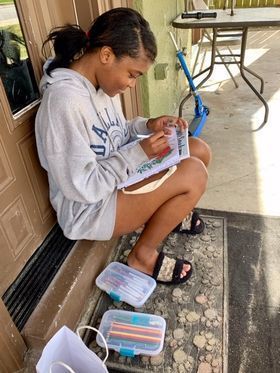 the "Jones" family (4 kids)
The "Jones" boys were in the custody of a family member who abused them for 3 years.  When their biological mother finally regained custody of them, she was homeless & struggling to rebuild her life.  LTK is still involved with the "Jones" family's recovery: helping them with transitional housing, relocating the kids in new schools, providing food, clothing, furniture, and rides to the doctor & counseling, since they don't have a vehicle.  
In addition, 2 of the boys and their mother are all Counseling Scholarship recipients, attending counseling sessions once a week, paid for by LTK.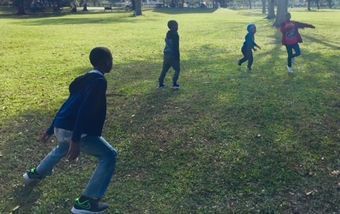 Clothing
LTK has provided over 3,000 articles of new and gently used clothing to local kids in crisis.  Most of our clothing donations stock up the closets at New Orleans Child Advocacy Center and Covenant House NOLA.  We've also donated lots of clothing to the kids living at Boys' Hope/Girls' Hope NOLA as well as to individual families.
Boys' Hope/Girls' Hope NOLA
is home to 8 teens in New Orleans, providing safety, food, rides to school, clothing, and mentoring until they go off to college.  In December 2021, LTK brought the boys' house and girls' house each a live Christmas tree & holiday decorations, and showered both houses with Christmas gifts for each of the kids in residence.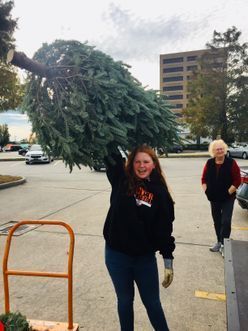 Juvenile Justice Awareness Day 2021
is the annual outreach event hosted by Orleans Juvenile Court.  LTK was an official sponsor of the event in 2021, where we distributed hundreds of child abuse prevention flyers, dozens of copies of the children' book My Body Belongs to Me, by Larissa Rhone & Tina Foster.  Also at that event, we gave out 300 single-use toiletry kits and over 30 t-shirts.   (Plus TONS of Halloween candy.)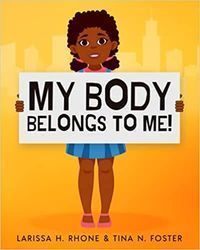 Counseling Scholarships
Our most expensive and powerful impact is through our Counseling Scholarship Program.  We refer kids and adults who need to process abusive experiences to experienced counselors in our local network and provide funding for an initial set of 10 counseling sessions.  The number of sessions may be expanded if progress is being made and the financial need persists.
We have sponsored EIGHT Counseling Scholarship recipients so far.