Adding to Maslow's hierarchy of needs, Self Determination Theory identifies THREE core human needs for thriving:
1.  AGENCY (A sense that you can control your environment, circumstances, or your response to either.)
2. BELONGING (A sense that you truly belong to a meaningful social group that cares for you.) 
3. COMPETENCE (The conviction that you can learn new things.)
Maslow's Hierarchy of Needs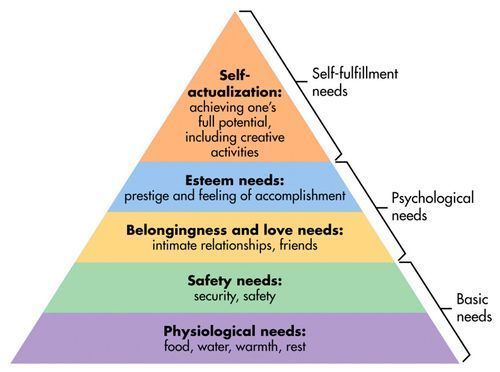 We provide:
links to free resources to address PTSD

(agency, safety)

handwritten notes of encouragement

(belongingness)

clothing tags with encouraging, handwritten messages

(belongingness)

an encouraging and informative social media presence

(agency, belongingness)

prayer

(belongingness)

makeup

(self-care: esteem needs)

perfume & jewelry

(self-care: esteem needs)

blank journals 

(reflection: self-fulfillment)

hope

(self-fulfillment)

yoga & meditation opportunities (agency, safety, belongingness, self-care, self-fulfillment…)
To request these emotional or mental health needs for yourself or for a child/young adult you're working with, please complete our "General Help Request Form." 
CHECK OUT THIS ARTICLE FOR MORE INFO ABOUT WHY EMOTIONAL NEEDS ARE KEY:
"Self-care and Hierarchy of Needs" by Sheryl Isaacs

TWO WORDS ABOUT MINDFULNESS & PTSD:
1. HEAL
"Practicing mindfulness calms down the sympathetic nervous system, so that you are less likely to be thrown into fight-or-flight."
(Van Der Kolk, The Body Keeps the Score, 211)
Meditation is the most scientifically proven method of re-wiring a brain that has been in overdrive due to PTSD.  Meditation is focusing on your breath, and the bodily sensations it creates.  Feeling your body is the opposite of dissociation, the tendency of those of us with PTSD to separate our mind from our bodies.  We can, and often do, simply stop feeling our bodies as a protective measure.  But once we're safe, we don't need to do this.  If the danger went on for years, like it did for me, you will likely need to re-learn how to feel your body.  Mindfulness and yoga teach you that.
Survivors of abuse should consider developing a regular routine of mindful meditation and meditative or Restorative yoga with the guidance of a certified professional.  We provide links to recommended guided meditations & yoga practices in our "Resources" section, as well as our "Important Links."  We also work to provide quality, local opportunities for survivors of abuse & their caretakers to benefit from the healing of meditation and yoga.  Keep an eye on our "Events" page to sign up.
2. CAREFULLY.
Because mindfulness is one of the most powerful strategies to re-wire your mind, PTSD & Mindfulness must be combined very carefully.  
Combining PTSD & Mindfulness