SUMMER 2023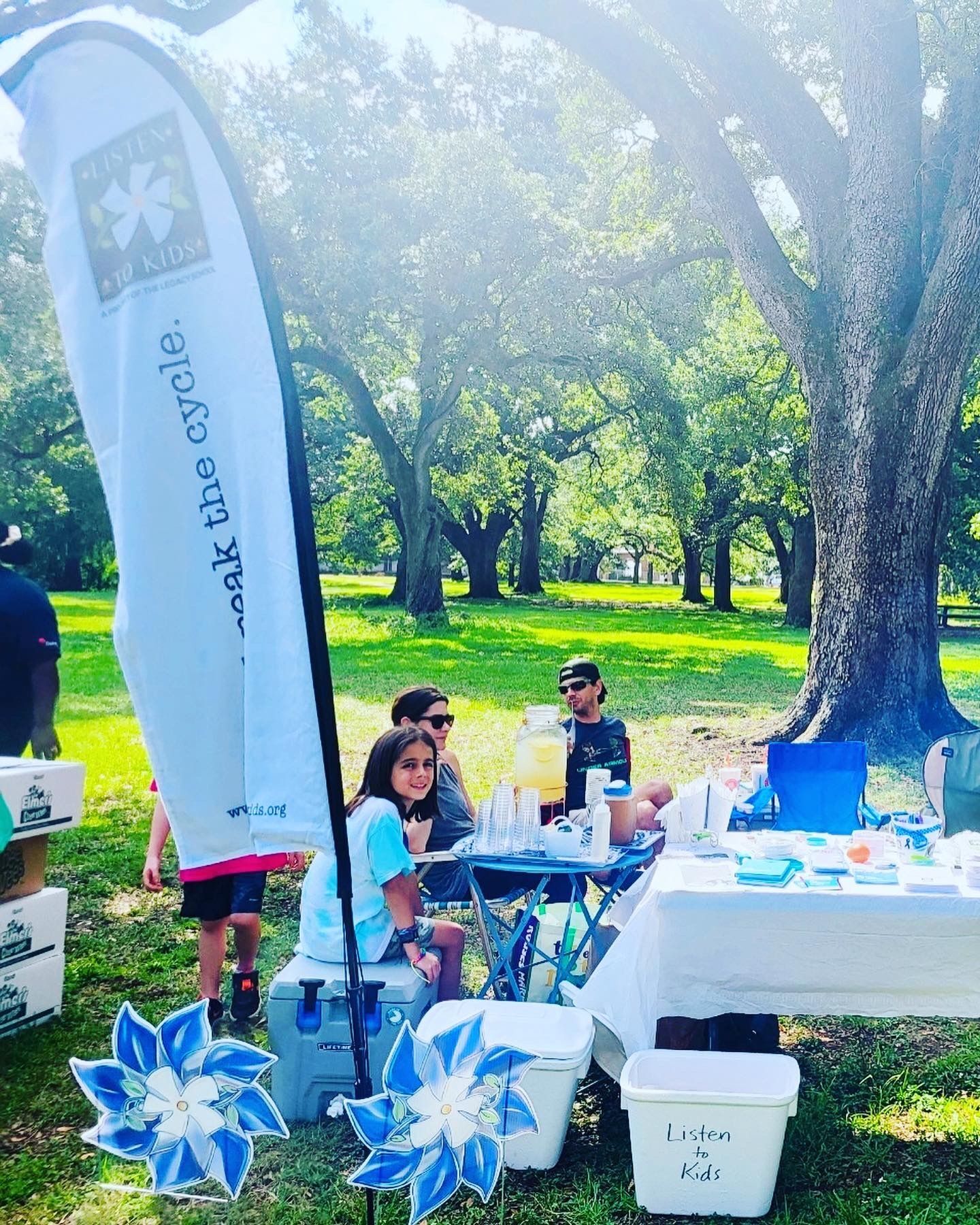 Oh man.  Listen to Kids is still blowing me away.  We had no formal plans for this summer except to start thinking about having a Gala.  And then the Divine took over:
We received EIGHT new requests for Counseling Scholarships in May & June.  Mind you, FIVE people is the most we've ever had in our Counseling Scholarship Program at one time.   We figured it out & guided parents through the process.  Now we're supporting a record ELEVEN Counseling Scholarships and have hit our financial limit, which means our 1st ever WAIT LIST.
In July, some volunteers reconstituted TWO gently used carseats and got them to a government agency that handles trafficking rescues in the NOLA area.  It's one of those problems you might not think about, ever, if you had no reason to.  Young women are often rescued out of trafficking with babies or toddlers they had in the process.  Transportation has to be arranged quickly, and carseats are not easily available.   And then these young mothers have to start their lives over.  A high-quality car seat is a nice kick-start.
Several in-kind gifts of new clothing, furniture, and hand-written notes of encouragement were given by our supporters to provider nonprofits such as Jesus Project, Raintree Family Services, both in NOLA, and Hope Cottage in Flagstaff, AZ.  
We partnered with Orleans Juvenile Court for their Juvenile Justice Awareness Day (JJAD) on July 15.  Listen to Kids contributed school uniform vouchers and supported the event.  Hundreds of local kids enjoyed free home-cooked burgers & live music, received backpacks with school supplies and uniform vouchers, and made connections with Orleans Juvenile Court's proactive & preventative programs.
We supported New Orleans Mission's Run with Purpose 5K on July 22.  We helped to sponsor the event and had an information table there.  Three adult volunteers and two kid volunteers congratulated runners, gave out prevention information from LTK and Children's Hospital, and served delicious lemonade.  (The LTK recipe, of course: home-made and free.)  It's so beautiful to have child volunteers.  
AND... we've SET A DATE FOR OUR 1st GALA!!  
Save the Date:
LISTEN TO KIDS GALA
Thursday, January 11, 2024
Uptown, New Orleans
APRIL 2023
April is national Child Abuse Prevention Month, and 2023 was a WONDERFUL YEAR FOR PREVENTION & AWARENESS at Listen to Kids!
In April 2023, we: 
hosted our first (annual?) awareness event:  "Homeland Security Trafficking Investigations:  A Victim-centered Approach," where we gave out TONS of awareness & prevention material to parents & grandparents
presented in person to a Tulane University class 
received

125

bags of donated shoes, socks, hygiene items, and art supplies from the 7th & 8th grades at St. Martin's Episcopal School
planted or distributed 375 pinwheels
distributed 300 "No Means No" coloring books about body boundaries
placed 50 yard signs
A family in need.
In December 2021, NOCAC/Audrey Hepburn CARE Center connected Listen to Kids with a family in dire need.  
Mom, stepdad, and four boys (ages 12, 10, 8, & 5) were living in a single motel room on Chef Highway.  I don't think they realized it, but they were living on one of the biggest human trafficking highways in the south.  We intended to give them Christmas gifts, which we did.  (LOTS of them.) But they also needed money for that night's stay.  They were unemployed & homeless.  
How they got into that situation is a complex story for another time, but the important details for this post are that the four boys had been taken from their mother four years previous, and their foster family abused them physically, sexually, & emotionally for the entire four years.  They were reunited with their mother at a time when she and her fiancé were homeless.  
Listen to Kids was able to help this family with food, clothing, mentoring, professional trauma counseling, rides to school and the doctor, encouragement, prayer, and access to stable, safe, temporary housing for SIX MONTHS.  It was only possible through the generosity of the LTK donors & volunteers, who rallied around this family.  We're also eternally grateful to the trauma-trained counselors at The Refuge 18-2 and Celebration Hope Center who worked with members of the family.
Even though our help was temporary, we know that God, "who began a good work in [them], will carry it on to completion." (Philippians 1:6)  Michelle was able to coach the parents on parenting abused kids and handling severe PTSD, and we were able to pray with the family and help them plan the next phase of their lives.  Those four boys will remember that strangers rallied around them in a time of crisis.  Michelle noticed measurable gains in mental health and learning for each of the boys during that time.
We conservatively estimate that the Listen to Kids community invested
 over $15,000 in financial and material help for this sweet family.
THANK YOU.
New Community Partnership: ValSpaces
We're SO EXCITED to announce our partnership with ValSpaces, a local, woman-owned, boutique interior design firm!!  
Imagine what we can accomplish together.  
Dinner for Trafficking Victims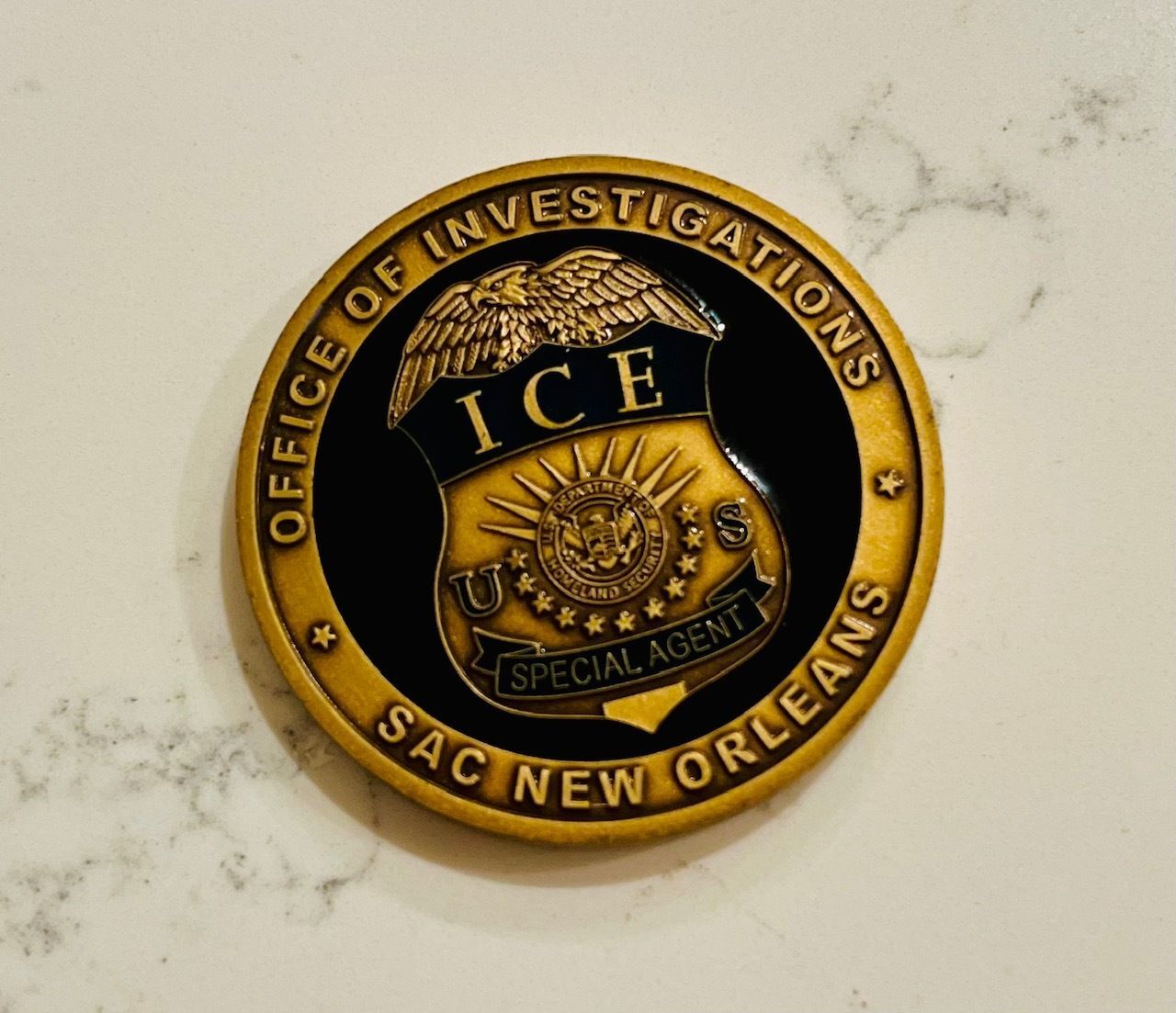 In August 2022, LTK got a call from Homeland Security Investigations, Victim Assistance.  There was a trafficking trial happening at federal court downtown, and Homeland Security flew two victims in to act as witnesses.  Both young women needed dinner the night before they testified.
Because they were from elsewhere, they both asked for local food.  Listen to Kids was able to deliver one girl a shrimp po-boy, and the other girl shrimp & grits the night before their court appearances.  Of course, we added a dessert and a handwritten note of encouragement to each girl's stash, and we were able to give one girl a blank journal.  Michelle delivered both meals and met each girl separately, which gave her the honor of telling them, face to face, that we were praying for them.
The original vision of LTK was to provide physical needs to victims of child abuse & trafficking at a pivotal moment.  
What a JOY it is when we get to do just that.
We're excited about our new partnership with Homeland Security Investigations, Victim Services here in New Orleans.
Metairie Woman's Club Award Recipient!
In May 2022, Metairie Woman's Club awarded Listen to Kids one of three Community Service Awards!!!  Listen to Kids was recognized for our positive impact on the New Orleans area.  What an honor to be included with the other two recipients:  Team Gleason and Hotel Hope!  Fighting ALS, homelessness, and the effects of child abuse; not too bad.  THANK YOU to the wonderful women of Metairie Woman's Club!  The award carried a donation of $3,000, which will strengthen our programming, especially our Counseling Scholarship Program.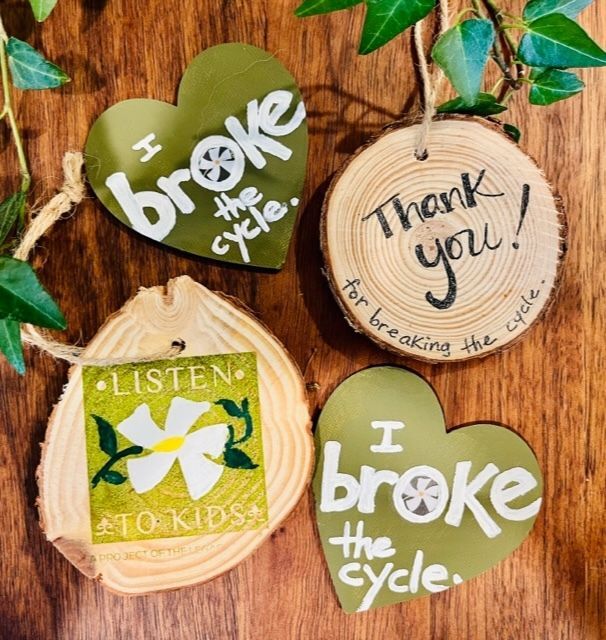 GiveNOLA Day 2022
GiveNOLA Day was a great success this year!  All in all, we raised $4,100 thanks to generous donors.  
We're so grateful.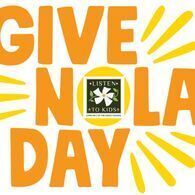 Child Abuse Prevention Month 2022
April 2022 was FULL of prevention & awareness wins for Listen to Kids!
To read more about what we did, CLICK HERE.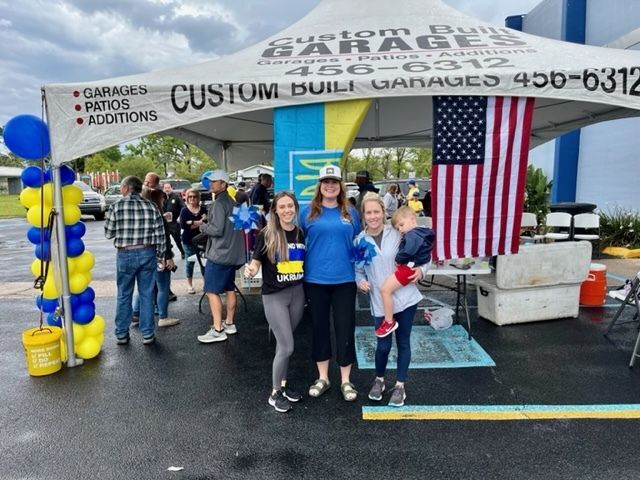 2 Local Families Received Help this Fall
In the Fall of 2021, Listen to Kids was able to respond quickly to two specific, local families in need.  
One single-mother family with small children was referred to us by NOCAC; we sent them new clothing, prevention material, and new bedding via their social worker.
Another family with four kids contacted us through social media.  They lost everything in Hurricane Ida, including housing.  We've been able to send them new clothing and emotional support activities for each one of the kids as well as a few things for their mom. 
We continue to check in on these two families.  Praying for y'all!
Gearing up for JJAD 2021 -- Trunk or Treat!!
We're busy getting ready for THE EVENT OF THE FALL!!!!! 
 NOLA Orleans Juvenile Court's
Juvenile Justice Awareness Day!
October 30, 2021
noon - 4pm
We've been crafting, collecting, assembling, and planning.  We CAN'T WAIT for the big day.  What's your costume?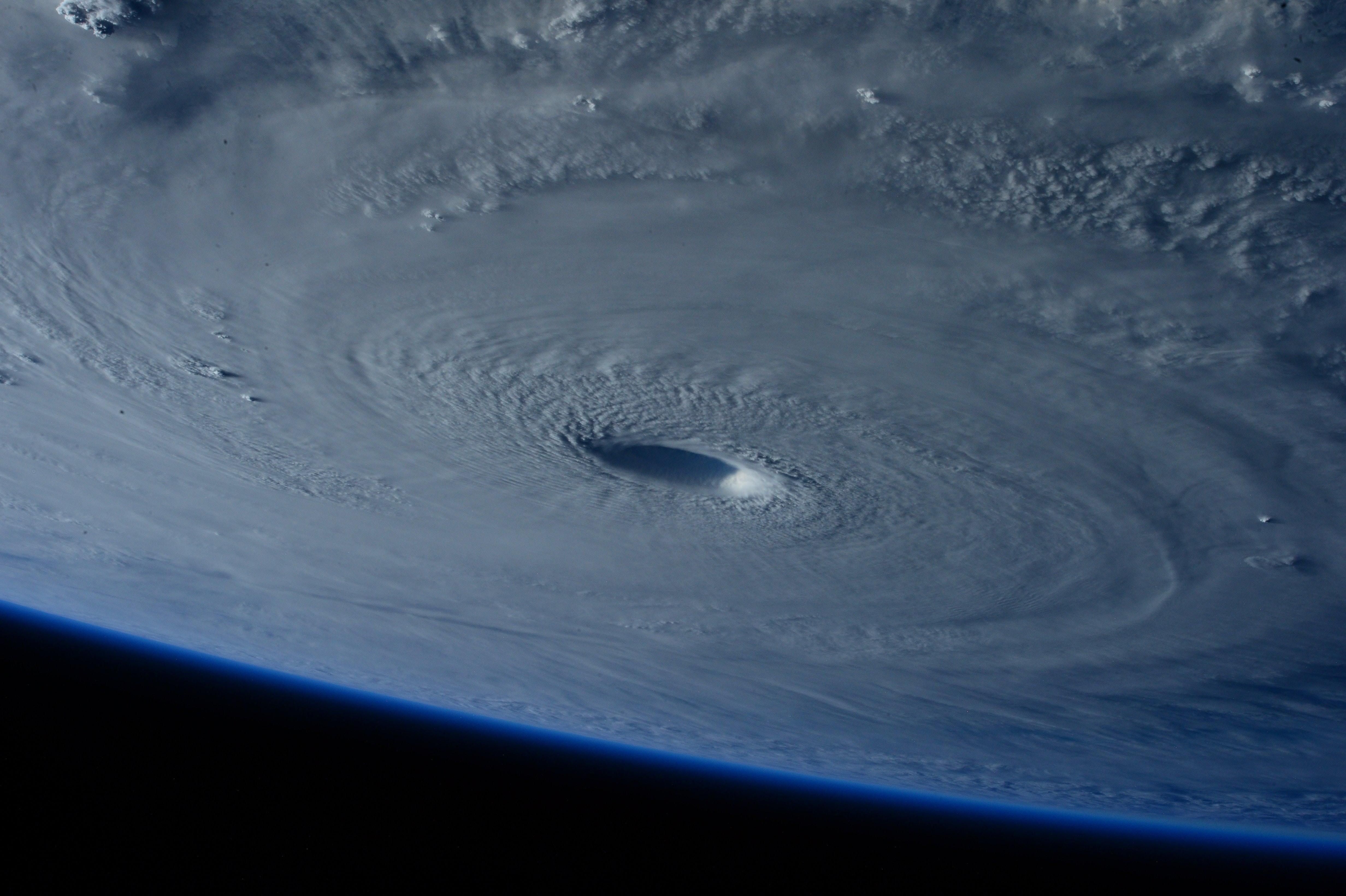 photo credit:  NASA, from Unsplash
Power of 100 helps fund Hurricane Ida Relief
We returned from our evacuation for Hurricane Ida this September to a donation of OVER $4,000 from a local group of women who call themselves NOLA Power of 100!  In addition, an anonymous donor from our Amazon Wish List sent us 4 large packets of sanitary pads.  Clearly, God was asking us to support local kids as they dealt with the devastation and chaos of Hurricane Ida.  
When I checked in with some of our provider partners, I found that Covenant House (about 300 kids) was in need of EVERYTHING, and especially new bedding sets: as many as possible.  Boys Hope/Girls Hope (about 10 kids) was needing cleaning supplies that they usually receive as donations at the first of the month.  I knew that all those kids needed encouragement in the chaos of NOLA's double-layered mass trauma (a hurricane within a pandemic).  
Due to the generosity we received, we were also able to provide post-storm provisions to a local family in need!  They received new pajamas & clothes for the kids, bedding sets, cozy blankets, chore charts, and some body boundary kids' books.
THANKS TO OUR WONDERFUL DONORS, we were able to deliver donations to TWO institutions & ONE family in need within a few weeks of Hurricane Ida.  Our Sept. '21 donations included:
12 bedding sets
7 cozy blankets
3 sets of kids pajamas
4 kids' shirts
6 pairs of kids' undies
chore charts
35 mindfulness books & resources
4 packs gel markers
4 packs sanitary pads
2 extra large containers of laundry detergent
22 sports bras
Hurricane Ida Relief - Sept. 2021
Louisiana "Legislature ends statute of limitations for child sex abuse lawsuits"!  Click the title of the article to read it. 
WAY TO GEAUX, LOUISIANA!!
Why is this important?
Representative Jason Hughes sponsored House Bill 492, which passed this June.   If signed by the governor, it will "remove deadlines for child sex abuse victims to pursue damage in civil court."  In the last few years, similar bills have been passed by other states.
Bill 492 is a special victory, because for decades, the way a child's brain processes memories of sexual abuse has been misunderstood.  In order to survive both physically and emotionally, a kid's brain often fractures all memories of abuse and scatters them throughout the brain, hiding the information.  Memories of abuse are stripped of a narrative context, so that they make less sense and feel less "real."  
This is different from the way the hippocampus stores other memories, such as lessons at school, what you had for lunch yesterday; it's especially different from the way our minds store life-changing memories we view as positive (like your wedding).  These "normal" kinds of memories are stored in a more organized & accessible way, ready for immediate recall.  Memories of abuse, on the other hand, can seem to disappear and remain absolutely hidden for decades or even a lifetime.
Most child abuse survivors are not even aware that they experienced sexual abuse until middle-age, when their own kids, health issues, or aging parents trigger these long-buried memories in the form of flashbacks.  As you can imagine, the process of realizing in your 30s or 40s that you were abused is quite disorienting and can trigger clinical levels of depression, anxiety, addiction, and suicidal thoughts. Until this summer, there was no way for an adult survivor who recently recovered memories of childhood sexual abuse to pursue justice.  THIS IS HUGE, Y'ALL.  Way to geaux, Louisiana!  And thank you, Rep. Hughes.
New ACEs Infographic from CDC:
Click HERE to see the CDC's latest infographic on ACEs.
Donation to NOCAC: 2/23/21
"Learning the System" Youth Summit -- JULY 9, 2021
CLICK HERE to see Shelby on the news!
On FRIDAY, JULY 9, 2021 LTK co-hosted a FREE YOUTH SUMMIT in NOLA with "Learning the System," a youth-led awareness group.
The summit is the brainchild of Shelby, a rising senior at Ben Franklin High School.  She got tired of watching her peers make damaging life-decisions and wanted to do something about it!  Kids need to be heard and understood, so Listen to Kids is all about amplifying healthy youth voices.  This is right up our alley.  We were able to support Shelby's efforts by contributing money for lunch and snacks for participants, as well as promoting the event.  Michelle sat on the "Mental Health" panel and was able to share the free resources Listen to Kids offers.
The event was a wonderful success.  Over 40 local high school students turned out & learned about how to protect themselves and their loved ones from the growing threats of sexual assault & trafficking.  They heard from expert panelists who work in anti-trafficking, members of the NOPD, Orleans Parish judges, and representatives from the Orleans District Attorney's offices.  They also learned about Adverse Childhood Experiences (ACEs) and how they can take control of their lives to counteract their own ACEs. 
Allstate Donation May 2021
Roberts' Family Agency - Allstate, Harahan
On MAY 21, 2021, MELISSA ROBERTS & employees of Roberts' Family Agency - Allstate in Harahan donated $$$$HUNDREDS$$$$ of single-use toiletries, including the "always" in-demand feminine hygiene products.  (No pun intended.)
The gift was the result of a toiletry drive Melissa and her co-workers hosted for almost a month.  
We're in good hands. :)
For real.  SUCH a friendly office to visit.
Thanks, Roberts' Family Agency!!!  We'll deliver your donations to NOCAC.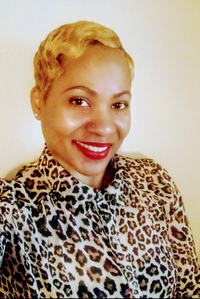 Community Partner: Juanita Carruth
This spring, Listen to Kids made an important connection with a local anti-trafficking activist: Ms. Juanita Carruth.  
Ms. Carruth's daughter experienced trafficking several years ago, and is currently in the healing process.  As a way to channel her protective energies and love for her daughter, Ms. Carruth has founded Families Against Child Trafficking, a 501(c)(3) here in New Orleans.  She is also an active member of the Greater New Orleans Human Trafficking Task Force, and has recently been named to Governor Edwards' Children's Cabinet Advisory Board.  
We're so excited to join forces with Ms. Carruth and support her mission to spread awareness of Child Trafficking in New Orleans.
To hear more of Ms. Carruth's story, read this recent news article & watch the video: 
WDSU: New Orleans Mom has Few Allies in Fight to Save Daughter from Sex Trafficking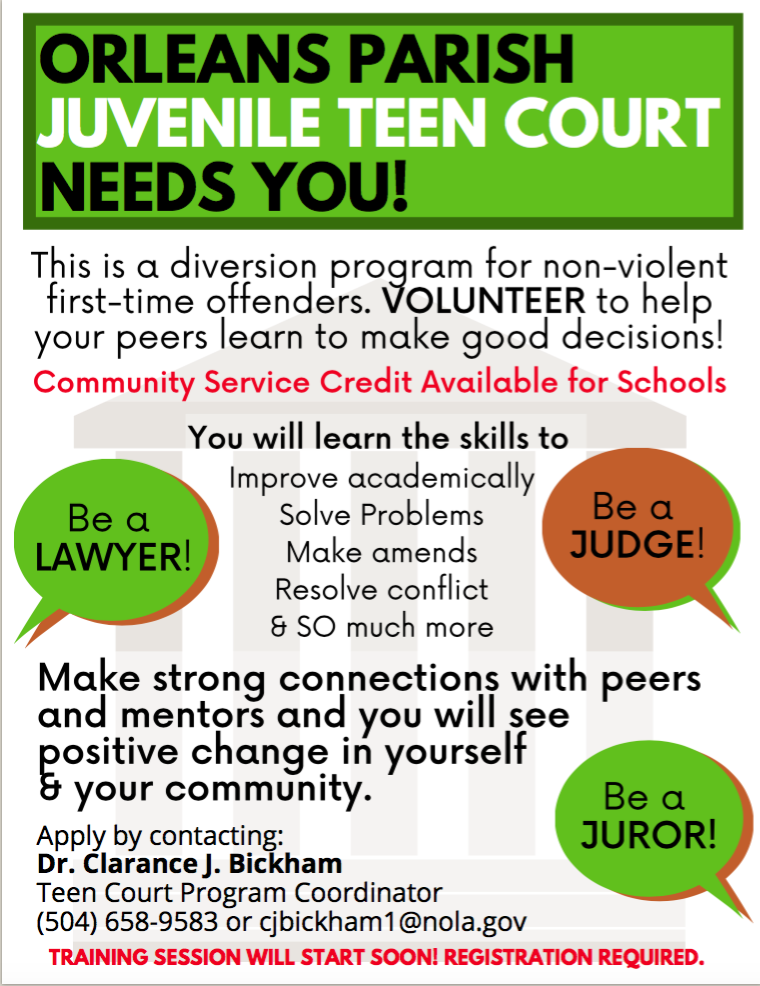 Orleans Parish TEEN COURT
When I worked as a high school principal, I was very proud of our Honor  Council and its incredible impact on our school community.  The Honor Council was comprised of 6 high school students, who ran for office via election, and one faculty moderator.  We trained members of the Council to hear about major violations of our rules & suggest consequences to the administration.  As the Head of Upper School, it was my goal to uphold as many Honor Council decisions as possible.  In many cases, the consequences kids came up with were more effective and appropriate than ideas from the administration.  And in most cases, students took consequences from the Council more seriously because they knew that their peers were there to help them grow and also understood the pressures that led to a violation.
I was thrilled to discover that Orleans Parish Juvenile Court is home to its very own TEEN COURT!  Similar to our Honor Council, this group of trained teens hears Juvenile, non-violent, first-time offender cases referred to them by juvenile judges.  Teens can volunteer to be jurors or even be trained as "lawyers" and "judges!"
If you are or know a teenager in New Orleans who would be interested in participating, PLEASE PASS THIS INFO ALONG!  Interested teens should email Dr. Clarance J. Bickham at cjbickham1@nola.gov or call him at (504) 658-9583.
Teen Court has been on a bit of a hiatus in recent years, but Dr. Clarance J. Bickham is bringing it back this summer.  A program like this can make a HUGE, POSITIVE IMPACT on the kids in our community.  I've seen it myself.
APRIL Awareness Event
On Sunday, April 11, 2021, we hosted an APRIL AWARENESS event in Audubon Park.  We love crafting, and the kids we work with love receiving hand-made gifts, so we often host "Craft for a Cause" events.   Yesterday, we made pinwheels.
While it didn't pan out like I'd envisioned (when does it ever?), it was a great, successful afternoon for LTK.   I was so encouraged.  The main goal was to keep child abuse issues in the public mind and stimulate conversations about it, and we did just that.  Adults enjoyed free, cold water on their afternoon walk or jog, toddlers in strollers LOVED the pinwheels we taped to their strollers, older kids taped pinwheels to their bikes, dozens of awareness t-shirts were given away, and many strong connections were made.  Listen to Kids will continue to hold a safe space for our community to talk about child abuse and its affects.  
THANK YOU for your donations of money and time yesterday!
Sidewalk Chalk Event
The Sidewalk Chalk event on March 14 was wonderful!  We gave away all 50 "Sidewalk Chalk Awareness Kits,"  and then started giving kids leftover chalk.  We also distributed over 50 pieces of prevention literature.  In the process, we made several new connections with our neighbors.  It was so sweet to see kids walking in Audubon Park holding blue pinwheels!
One boy fell off his bike looking at our decorations.  His dad comforted him, and we brought them ice and a pinwheel.  Father & son found a way to attach the pinwheel to his bike so that it would spin as he biked.  He left with a big, proud smile on his face, and his dad left with prevention literature.
Car Full of In-Kind Donations!
On February 23, Michelle received an entire CARLOAD of in-kind donations!
5 LARGE bags of clothing and shoes (from Alicia & family)
38 travel bags of different sizes (from Linda, on behalf of Women for a Better Louisiana)
All of it was delivered to the closets of the Audrey Hepburn CARE Center/New Orleans Child Advocacy Center (NOCAC) that afternoon.  
We can't THANK YOU enough,
ALICIA, LINDA & WBL!
Valentines for the Girls at Raintree House
For Valentine's Day this year, Listen to Kids prepared a Valentine's gift for each teen girl living at Raintree House.   It's a group home for foster kids.
Thanks to our donors' generosity, we made 15 gifts for UNDER $5 EACH!!!  
Each girl received:
a hand-made Valentine card
a piece of new jewelry, wrapped in a box
a new journal
a gel pen
Valentine's candy
Of course, I had to throw in a few Haydel's king cakes.  
February Donation to Covenant House NOLA!
Covenant House Donation 2-21
On February 12, 2021, we delivered FOUR giant garbage bags full of clothing and about a dozen stuffed animals to the 200ish kids living at Covenant House NOLA. Your in-kind donations of new or gently used clothing are vital for Covenant House's program.  THANK YOU THANK YOU, Mom & Dad, and Alicia, for these donations.  They'll make kids feel worthy this winter.
-Michelle
At Christmastime 2020,
Listen to Kids participated in collecting, packaging, and distributing 
SO MANY GIFTS to local kids who've suffered abuse & its consequences!!!
Raintree House (home for adolescent girls) -- 15 Christmas gift bags (reusable totes) filled with beauty & self-care items
Covenant House NOLA (home for homeless teens) -- 8 board games, 20 toiletry kits, 15 individually wrapped & personalized Christmas gifts for teen girls, about a dozen large hygiene items to share (toothpaste, shampoo, conditioner, etc.), personal notes to employees, and handmade Christmas ornaments 
NOCAC (kids who experience abuse, through age 19) -- over 50 winter coats, 30 blank journals, new toys for toddlers, 6 new outfits for boys ages 5-8, 15 pairs of new shoes, tampons & pads, and handmade Christmas ornaments
Life Group Fills Bags for Kids at Raintree
N.O. Mission Gala 2020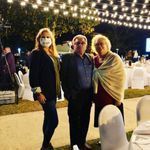 Listen to Kids was honored to have a table at this year's New Orleans Mission Gala, held at Lynhaven Retreat Center, their women's discipleship campus.  Women in the program cooked & served us dinner.  We were serenaded by Danny Gokey, and David Bottner told story after story of transformed lives at the Mission.  The event was held outside on the retreat center grounds on a gorgeous evening.  It was a wonderful night of celebration, gratitude, & networking for those of us interested in helping the homeless of all ages.  
Homelessness & Listen to Kids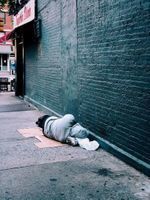 Youth and Adult Homelessness are the frequent result of untreated Adverse Childhood Experiences, especially abuse and neglect.
In NOLA, we're partnering with the New Orleans Mission.  Many adults who seek help there have never addressed their childhood traumas. 
---