Car Full of In-Kind Donations!
On February 23, Michelle received an entire CARLOAD of in-kind donations!
5 LARGE bags of clothing and shoes (from Alicia & family)
38 travel bags of different sizes (from Linda, on behalf of Women for a Better Louisiana)
All of it was delivered to the closets of the Audrey Hepburn CARE Center/New Orleans Child Advocacy Center (NOCAC) that afternoon.  
We can't THANK YOU enough,
ALICIA, LINDA & WBL!
Valentines for the Girls at Raintree House
For Valentine's Day this year, Listen to Kids prepared a Valentine's gift for each teen girl living at Raintree House.   It's a group home for foster kids.
Thanks to our donors' generosity, we made 15 gifts for UNDER $5 EACH!!!  
Each girl received:
a hand-made Valentine card
a piece of new jewelry, wrapped in a box
a new journal
a gel pen
Valentine's candy
Of course, I had to throw in a few Haydel's king cakes.  
February Donation to Covenant House NOLA!
On February 12, 2021, we delivered FOUR giant garbage bags full of clothing and about a dozen stuffed animals to the 200ish kids living at Covenant House NOLA. Your in-kind donations of new or gently used clothing are vital for Covenant House's program.  THANK YOU THANK YOU, Mom & Dad, and Alicia, for these donations.  They'll make kids feel worthy this winter.
-Michelle
At Christmastime 2020,
Listen to Kids participated in collecting, packaging, and distributing 
SO MANY GIFTS to local kids who've suffered abuse & its consequences!!!
Raintree House (home for adolescent girls) -- 15 Christmas gift bags (reusable totes) filled with beauty & self-care items
Covenant House NOLA (home for homeless teens) -- 8 board games, 20 toiletry kits, 15 individually wrapped & personalized Christmas gifts for teen girls, about a dozen large hygiene items to share (toothpaste, shampoo, conditioner, etc.), personal notes to employees, and handmade Christmas ornaments 
NOCAC (kids who experience abuse, through age 19) -- over 50 winter coats, 30 blank journals, new toys for toddlers, 6 new outfits for boys ages 5-8, 15 pairs of new shoes, tampons & pads, and handmade Christmas ornaments
Life Group Fills Bags for Kids at Raintree
N.O. Mission Gala 2020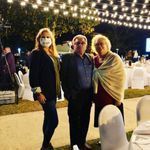 Listen to Kids was honored to have a table at this year's New Orleans Mission Gala, held at Lynhaven Retreat Center, their women's discipleship campus.  Women in the program cooked & served us dinner.  We were serenaded by Danny Gokey, and David Bottner told story after story of transformed lives at the Mission.  The event was held outside on the retreat center grounds on a gorgeous evening.  It was a wonderful night of celebration, gratitude, & networking for those of us interested in helping the homeless of all ages.  
Homelessness & Listen to Kids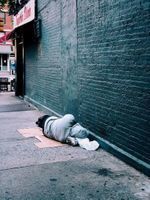 Youth and Adult Homelessness are the frequent result of untreated Adverse Childhood Experiences, especially abuse and neglect.
In NOLA, we're partnering with the New Orleans Mission.  Many adults who seek help there have never addressed their childhood traumas. 
---