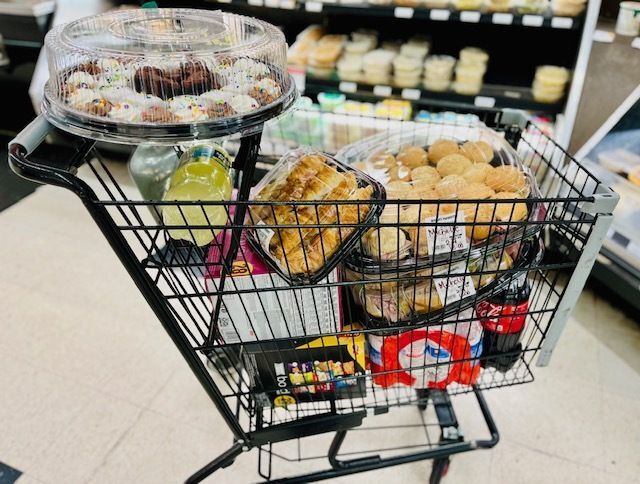 I've been thinking a lot about RESCUE lately. What does it mean to be rescued? Do we always realize that we need rescuing? How often are we saved from some horrible danger without knowing it? How many people have saved us during our lives without being thanked?
Recently, one of our contacts representing a few Law Enforcement Partners reached out to us to provide food for a rescue mission they were planning. They were ready to take action on a ring of trafficking in NOLA and expected to rescue as many as 10 child trafficking survivors. We were able to plan a few days ahead, and our supporters rallied. Donations to be used for these girls' rescue meal poured in, and we were able to provide more food than we expected, plus dessert (including king cakes), a gift bag for each girl with shampoo, conditioner, soap, toothbrushes & paste, a new journal and pen, and a devotional. In addition, the high school club Cloaks and Dresses at St. Martin's Episcopal School wrote handwritten notes of encouragement; each survivor got more than one note telling them they are not alone.
As I drove around the city and collected donations from family, friends, & supporters, it occurred to me that these liberated victims would be taken by surprise. It would probably be scary for agents to bust in and remove the girls. They wouldn't know where they were going or what their future was. Could they trust these agents? Many of them could technically be criminals, depending on what their pimp/captor made them do. Would they think they were in trouble, even going to jail? Would they realize this was a chance at a whole new life? A healthy one, in which they could make choices for themselves?
We're celebrating Valentine's Day this week. Hearts and roses are everywhere. Some of the survivors may believe their pimp/captor loves them. He/she has spent time and money to convince them of this, for selfish ends. But true love is planning for months and spending tremendous time, effort, and money to rescue girls who may be afraid to be rescued, or may not even believe they need rescuing. Even risking one's life for these girls, without expecting anything in return.
The agents who planned and executed this mission are invisible heroes. Thank God they exist. Thank God for real, unconditional, love.
We've heard that the mission was productive, and that the agents are understandably tired but continuing to help the survivors figure out their next steps. That's all we may ever know about what happened.
Jesus said "If a man has 100 sheep, but one of them is lost, will he not leave the other 99 sheep on the hills and go look for the one that wandered off?" (Matthew 18:12)
What a cosmic honor it is to be even a small part of these efforts.
Michelle
February 2023