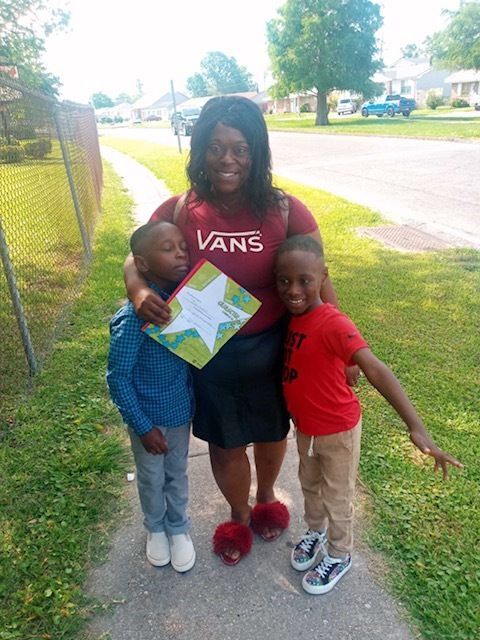 In January this year, I sent urgent texts to a few LTK donors and volunteers about a family of four boys referred to us by NOCAC.  I had just realized they were living with their biological mother and her boyfriend in the only place they could afford: a sex trafficking hotel on infamous Chef Highway in New Orleans East.  They were paying each day, and running out of money quickly. 
"They need housing ASAP.  All the homeless shelters they applied to are full.  Does anyone have apartments they're renting out?  Is anyone willing to take a chance on this family?"  
Honestly, I expected nothing to come of my desperate texts.   I hadn't met these kids. I knew nothing about them except that the boys were abused in a family member's care and were recently reunited with their birth mother by local authorities. The social worker who told me about them said she'd never seen a family so thrilled to be back together.  But who would go out on such a limb for a homeless family they'd never met? 
One of our supporters, Farah, had worked with her employer to gather and deliver Christmas gifts for the boys.  Like their social worker, she was touched by this family's joy.  Farah called me several times asking if there was anything more LTK could do.  
I kept thinking "we don't do housing."   But I prayed, asking God to tell me what to do.  LTK money is His, after all.  That's when I sent the texts.  
I kept thinking "I'll do this just in case, & then I'll let the family know that we don't have the resources." 
And then a donor called to say she had a condo she'd just moved out of and was planning to sell.  When she received my texts, she had felt a tug. She thought maybe she could rent it to this family at a reduced rate for a few months.  It would mean a serious cut in the income she'd planned for herself with the move, but she was willing to help a family.  After prayers and planning, we made a decision.
My heart was overflowing with joy and purpose the next day when I pulled up in my truck to the sad, old motel on Chef Menteur Highway.  Four boys with smiles like Christmas morning came running toward my truck to meet me for the first time. I saw what the social worker & Farah had seen.  I was in love with this family.  After introductions, we packed all of their things, loaded the family in the truck, and said goodbye to N.O. East. 
Because of the radical, risky generosity of our donor, the family signed a six month lease for the two-bedroom condo in a good neighborhood.  We created a recovery plan with the family to help them become as self-sufficient as possible in those six months.  Once we had stepped out in faith, more LTK donors and volunteers rallied around the family.  
They had no vehicle, and the kids hadn't seen a doctor.  They needed meds and counseling to help them process the traumas they had experienced; they needed clothing and food.  LTK volunteers coordinated rides, brought food, clothing, school supplies, and toys.  LTK found expert counselors for 2 boys and the mom, paid the fees, and drove them to counseling sessions.  
We walked with them in their battle to get the boys' social security income transferred from the abuser to the mother.  We helped the boys start at new schools, and the parents navigate the boys' PTSD behaviors.  Two of the kids were able to attend summer Bible camp at Williams Blvd. Baptist Church this July. During their time in Kenner,  the mother and her boyfriend were able to have a wedding ceremony, which we attended.  The boys were groomsmen.  The family was galvanized.  
They still face a lot of challenges.  Helping them was not always easy.  We constantly prayed for wisdom about boundaries: financial, relational, & scheduling.  We didn't always agree with the parents.  But research on Positive Childhood Experiences (PCEs) tells us that every moment these four boys feel safe, heard, know they belong, and experience  joy armors them against the harmful effects of the abuse they suffered.  Of course, poverty is an adverse childhood experience that increases trauma, but they have a fighting chance.  
They moved out of Kenner last month with two legal parents who are married and in love, updated IEPs, updated vaccines, healthy coping skills, and joyful memories of safe time with family.  
They're now in Virginia, where housing for families like them is not scarce and government services are more readily available.  (They're on a waiting list for Section 8 in Louisiana; it's a three-year wait.). 
My career in education tells me that, once these kids were liberated from their abuser, the clock was ticking down to their teenage years, when gangs, addictions, and other criminal lifestyles could combine forces with the rage generated by their abuse and easily send them down destructive paths.  For most of 2022, they felt what stability with their mother and a good father figure could be like.  Their mom was able to feel supported and had the reserves to love her boys extravagantly.  She gave them everything she had, and I know that she and her husband always will.  Experiencing this safety and hope, even for a few months, may be enough to help these kids want to overcome their past. 
When you support Listen to Kids, you allow us to respond quickly and effectively to these sorts of situations.   There are more families like this than we realize.  And we'll never know the true extent of it.  Abuse is most often perpetrated by a family  member or a trusted member of the community, so it becomes a shameful secret the family keeps.  Parents may see that their kids are suffering, but feel confused and overwhelmed about how to respond.  
That's where we come in.  Thank you for being part of our team!