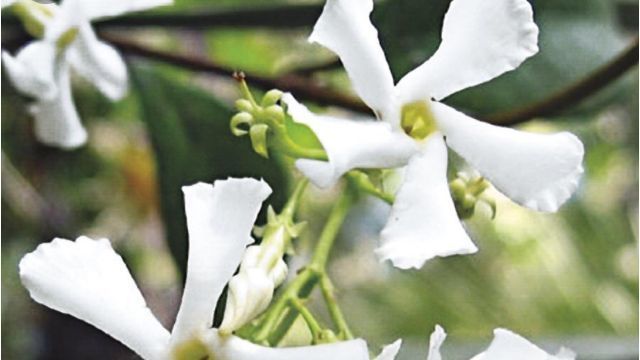 Like most New Orleans porches, my parents' house had wrought-iron railing, and old, thick, star jasmine vines twisted and sprawled over the railings so much that we'd sometimes have to hold them back just to walk past.  
I always loved the dark green, perfectly symmetrical leaves trailing everywhere, vines wrapping around themselves, and seemingly everpresent new, bright green growth.  In the spring, the vines would bloom in glory, covered with small, 5-petaled, sweet, jasmine flowers.  Their creamy white petals on the green, shadowy background used to mesmerize me.  Once in a while, if it was cool enough outside, we'd leave the window in the TV room open at night so that we could smell the jasmine while we watched TV in our pajamas.   I loved feeling cozy and safe in my nightclothes, dozing off on the couch, dialogue from M*A*S*H or Fantasy Island a murmur in the background, covered by the soft scent of star jasmine.  You don't encounter that scent anywhere else.  The scent of jasmine means school's almost out for the summer.  It means all will be well.
And yet, starting around age 9, I didn't feel safe at home.  Sometimes I was safe, but I never let my guard down.  Even after the abuse stopped, at around 11 years old, I never felt sure that something violent wouldn't happen at that house.  
However, through middle school, and the four frenetic years of high school, and even when I attended our local college, the jasmine vine on the porch bloomed every April.  That scent was there when I went on my first date,  and when my baby sister was born, and even the spring I graduated from high school.  It never stopped growing.  Never stopped blooming.
That beautiful star jasmine bloom and it's striking bright contrast to the vine background are now part of the Listen to Kids logo.  The image reminds me that no matter what you're going through, you can keep growing.  You can even bloom.  All will be well some day.